Weds Night Fights 2019 Tournament Season
Weds Night Fights is going 9 years strong in 2019 and we're thrilled to share what we have in store this tournament season! Just a short recap, we have recently opened our WNF x ESA Oakland events last year which unites NorCal's finest competitors, develops new talent, and content creators in the region. Similar to WNF x ESA Orange County, 100's of players are rushing down classic to modern fighters every week. We are thankful to all NorCal tournament organizers and Esports Arena Oakland for giving the FGC a home for our Wednesdays!
So what's new in 2019? You may have heard Esports Arena has partnered with Walmart on some big initiatives this year including venue spaces within participating stores. We are excited to officially announce our partnership of Weds Night Fights with the following Walmart locations:
Roseville, CA
Spokane Valley, WA
Colorado Springs, CO
Tulsa, OK
Fort Worth, TX
You may have seen a soft launch of the WNF brand already at the above locations. We apologize for the confusion as Esports Arena and Level Up were still strategizing the future of our weekly partnership for 2019. Since this is such a huge expansion in a small amount of time, we were hard at work on planning an official launch which includes league formats, game(s) participation, and special features for the Walmart locations. We appreciate your patience on this as we are finally ready to share our partnership details.
Weds Night Fights League Nights x Walmart – Presented by Esports Arena
Esports Arena(ESA) has an awesome WNF League Night initiative currently on Street Fighter V Arcade Edition throughout all ESA's including Orange County, Oakland, and their new Walmart locations. Similar to our WNF Season format from the past, Esports Arena will award players league points at the end of each tournament. The highest league point earners at the end of the season will represent their region in a playoff tournament at ESA Oakland. 8 players will battle for a chance to compete as wildcards in Saturday Fight Night's Main Event.
WNF League Points:
1st: 10 pts
2nd: 6 pts
3rd: 5 pts
4th: 4 pts
5th-8th: 3 pts
9th or lower: 1pt
Registration:
You can register for WNF League Night at participating Walmart locations here: https://www.esportsarena.com/Walmart/events/2019/Leagues/WNF.html
Season 1 Schedule:
1/7 – 2/27
Esports Arena x Walmart Hours:
8PM – 11PM
Lineup:
Street Fighter V: Arcade Edition
More games coming soon!
Saturday Fight Night on NBC
Esports Arena, Level Up, Capcom, and NBC have partnered up to showcase Saturday Fight Night, a rival exhibition between NorCal and SoCal on Street Fighter V Arcade Edition. The final 4 players(Wildcards) from the WNF League Night playoff tournament will qualify to a draft phase where Team Captains will make final selections to create a 5 roster team. Players will compete for $5,000 in prizing and the matches will be televised on NBC after Saturday Night Live on March 9, 2019!
In addition to the Saturday Fight Night Main Event, there will be an open Street Fighter V Arcade Edition tournament at Esports Arena Oakland to warm up the competition.
Team NorCal:
Samurai – Team Captain
LPN
Alex Myers
Wildcard 1*
Wildcard 2*
Team SoCal:
Chris Tatarian – Team Captain
Dankadillas
SDPnoy
Wildcard 1*
Wildcard 2*
Schedule:
4PM Doors Open
6PM Open Tournament – Street Fighter V: Arcade Edition
9PM WNF Top 8 Playoffs & Player Draft
1AM Saturday Fight Night – NorCal vs SoCal
*Saturday Fight Night Update:
The Open Tournament on 3/9 will be a LCQ for the Top 8 WNF Playoff.
In case there are low turnouts at WNF x Walmart locations, we will open up additional LCQ spots at the Open Tournament.
Would not be fair if there are lopsided turnouts.
Registration:
$10 Venue / $10 Bracket
https://smash.gg/sfn
Open Tournament, WNF Top 8 Playoffs, & Player Draft Stream:
https://twitch.tv/leveluplive
Saturday Fight Night – NorCal vs SoCal:
After Saturday Night Live on NBC at 1AM (Check local listings for channel)
Weds Night Fights 2019 Tournament Season – Orange County & Oakland
In parallel to ESA WNF League Nights, we are kicking off our traditional Weds Night Fights 2019 Tournament Season which will now synchronize Orange County and Oakland into the same calendar of events. Winter, Spring, Summer, and Fall Seasons will now run concurrently between both regions and finalists of each season will earn prizes from our WNF partners. Participating games may vary depending on each initiative so make sure to follow our Twitter @levelupseries or our WNF Facebook Event Page for updates throughout the year.
Season Points Breakdown
Every WNF Season event has ranking points which accumulate for an overall finalist prize. We have added 2 WNF boost events during mid and season finale events by 10 points. Top 3 finalists qualify to win a prize at the end of the season from our awesome partners.
Season Points: 1st 50 2nd 40 3rd 30 4th 20 5th 10 5th 10 7th 5 7th 5
Mid Season / Finale Points: 1st 60 2nd 50 3rd 40 4th 30 5th 20 5th 20 7th 10 7th 10
Season Schedule
Winter: 2/13, 2/20, 2/27, 3/6, 3/13, 3/20, 3/27, 4/3
Spring: 5/8, 5/15, 5/22, 5/29, 6/5, 6/12, 6/19, 6/26
Summer: 8/7, 8/14, 8/21, 8/28, 9/4, 9/11, 9/18, 9/25
Fall: 11/6, 11/13, 11/20, 11/27, 12/4, 12/11, 12/18, 12/25
WNF Off Season Events
WNF Off season are events that run outside the regular season and do not have ranking point value. More games, more competition all year long! Please note: Holidays and eSports Arena special events will have priority over our Off Season events.
Buy-in Prize Distribution
1st 50% 2nd 20% 3rd 13% 4th 7% 5th 3% 5th 3% 7th 2% 7th 2% (If 256 competitors but less than 512)
1st 55% 2nd 30% 3rd 10% 4th 5% (If 128 but less than 256 competitors)
1st 60% 2nd 30% 3rd 10% (If 64 or less competitors)
WNF Partners
Stay tuned as we are finalizing partner details!
WNF x ESA Oakland
Address
255 2nd St.
Oakland, CA 94607
Registration
smash.gg/wnfoakland
WNF x ESA Orange County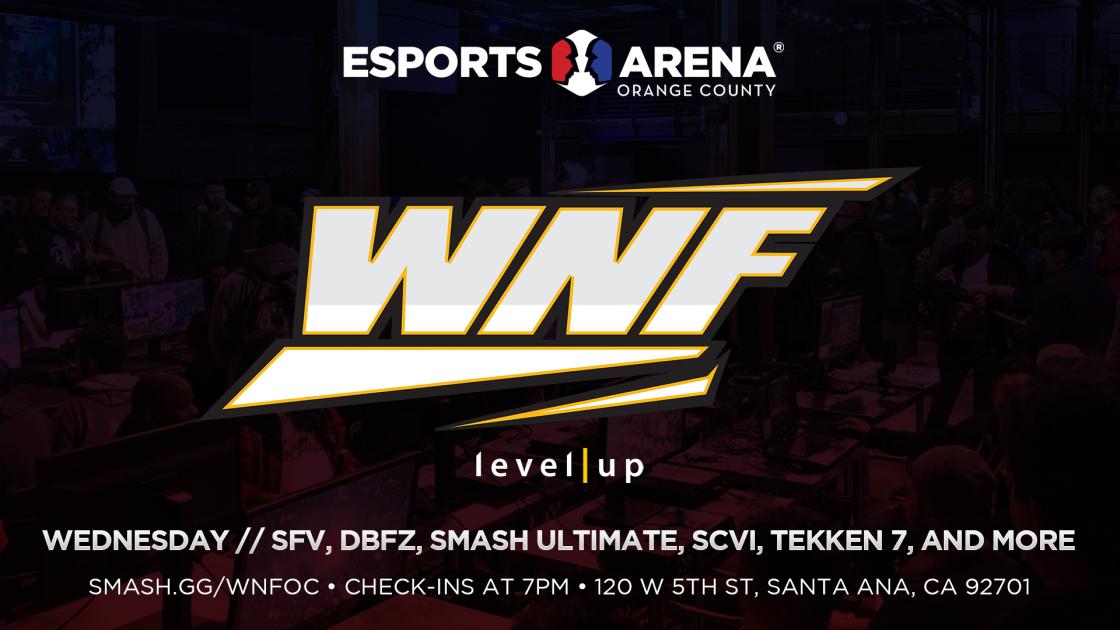 Address
120 West 5th St.
Santa Ana, CA 92701
Registration
smash.gg/wnfoc