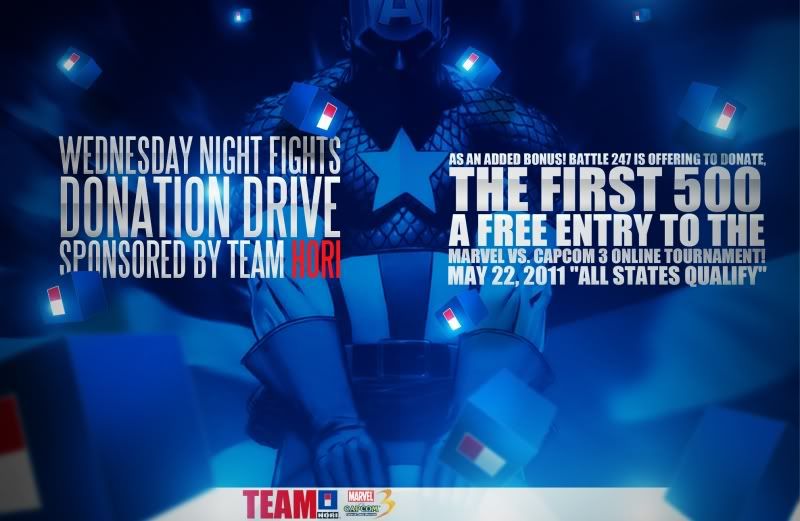 Team HORI is giving away some awesome prizes to our WNF viewers! That's not all, they're also sponsoring the first 500 entries to Battle247's MvC3 online tournament this May 22! ALL STATES will be eligible to enter since Team HORI will be providing free entry! If you're enjoying the WNF action on Offcast's stream, simply donate $8 or more for a chance to win the following prizes:
1. RAP Premium VLX (Your choicePS3/Xbox360)
2. RAP V3 (Your choice PS3/Xbox360)
3. HORI HD LCD Monitor (PS3 Only)
4. Free Entry to Revelations MvC3 Online Tournament (Up to the first 500 entries)
*Note: Those that have already entered the MvC3 online tournament are automatically entered in the contest!
Time/Date: 8PM PST Apr.27

Stream URL : www.justin.tv/offcast
Team HORI contest rules:
1.       To participate, donate at least $8 to Paypal: teamhori@yahoo.com
2.       Donate as a gift.
3.       Leave a comment as 'Donation Drive'
4.       Sit back, enjoy the stream and we will announce winners via Twitter/Facebook
FAQ:
What if I want to enter multiple times?
We recommend participants to make separate Papal donations following the rules above.
Example:
Mike Smith donates $10 as his first entry.
Mike Smith donates $10 as his second entry.
How and when will winners be announced?
We'll announce winners a few days after the broadcast via Twitter/Facebook. We'll also send an email to winners confirming their shipping address and prize.
Where does my donation go?
The Team HORI donation drive goes into improving WNF and the stream.
International entrees accepted for the contest?
Contest only eligible for North America. If you wish to donate anyways, we highly appreciate your support!